Wyoming (WY) Insurance Exam Prep Courses
Get your Wyoming insurance license using an America's Professor online training course. Our comprehensive video lectures, review questions and study guide will help you learn, and retain, the material needed to pass your Wyoming insurance license exam the first time!
Start your path to success today! Please take a look at our Wyoming Insurance Pre-Licensing Courses below for Property, Casualty, Life and Health:
Courses
Scroll down for more courses
Our Guarantee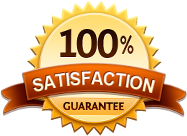 Our goal is for your educational experience to be a positive one! If you are dissatisfied with your course, please let us know as soon as possible. We will make it right. If you start the course and realize it's just not for you, let us know and return the materials and we will provide a full refund. Refunds are not available after the course certificate of completion has been issued.
If you are unable to pass the exam within your course subscription time, please give us a call at 1-800-870-3130 and we will extend your subscription for free until you pass.
We are committed to helping our students!
Got A Question?
Feel free to give us a call if you have any questions! 1-800-870-3130
Company Specific Courses
Please see here for more information on company courses. If you already have a course set up with us please use the search field at the top of the page to search for your company.
How To Pass
To get your Wyoming insurance license you need to pass the state licensing exam. This is true whether you plan to sell property and casualty (P&C) insurance, life insurance, health insurance, or another line of authority. 
If you're like most students, you probably have lots of questions. Like, how hard is the exam, what score do I need to pass, and how do I sign up? 
You're in the right place. The experts at America's Professor answer these questions and more below. Keep reading for key information about the Wyoming insurance license exam and how to pass it. 
How hard is the Wyoming insurance license exam?
Many students ask us how hard is the property and casualty exam? Or for that matter, the life and health exam. 
Each one is challenging in its own way. 
The information on the exams is not common knowledge. For example, depending on which exam you take, you'll be expected to know the meaning of terms like "indemnity," "estoppel," and "subrogation." 
Estopp-what? Like we said, it's not everyday knowledge! 
The exams are designed to test you on key concepts and terminology. But the people who write the questions have a few tricks up their sleeves. They might turn a question into a negative or include useless information to throw you off. 
The better prepared you are, the less likely you are to fall victim to these tactics. The best way to prepare is by enrolling in a Wyoming exam prep course through America's Professor. We'll teach you everything you need to know to pass the exam. 
How many questions are on the Wyoming insurance exam?
This will vary by exam and is subject to change over time. The exams for single lines of authority have fewer questions than combo exams. 
Currently: 
The Life exam has a total of 100 questions. Of these, 85 are scorable, and 15 are "pretest" questions, which don't count toward your score.
The Property & Casualty exam has a total of 200 questions. Of these, 170 are scorable, and 30 are "pretest" questions, which don't count toward your score. 
For more information about the number of questions and time limits for each exam, refer to the Wyoming Candidate Handbook and the Test Content Outlines. Both are available for download at https://home.pearsonvue.com/wy/insurance. 
What score do I need to pass the exam?
Currently in Wyoming, you need a score of 70 to pass the exam, regardless of which one you take. 
Each exam has two parts: A general information section, and a section covering Wyoming insurance laws. You need a score of 70 on both parts to pass. Partial passes are not acceptable. 
The good news is that your exam will be scored on the spot, so you won't be waiting anxiously to find out whether you passed. 
If you don't pass, you will not be told which specific questions you got right or wrong, so carefully review all the study material before retesting. 
You can sign up to take the test again through the Pearson VUE website after a mandatory 24-hour waiting period. 
Which exam is hardest?
In looking at the Wyoming Property & Casualty exam vs. the Wyoming Life & Health exam, studies have shown that the Property & Casualty exam tends to be slightly more challenging for Wyoming students than the Life & Health exam. Data published by the NAIC about first-time pass rates reflects this. 
All insurance licensing exams are broken up into two sections: a general knowledge section and a state-specific section. Students report that the state-specific portion of the exam is more challenging, since Wyoming insurance laws and regulations can get very granular. 
Do I really need an exam prep course?
We'll answer that question with a question. Do you know what estoppel means? Or what a "fraternal benefit society" is? 
Ok, that was two questions. But you can see where we're going with this. Most people simply aren't familiar with insurance terminology and concepts. It's a complex industry with a language all its own. 
Just scanning the test content outline for your exam isn't enough. Neither is memorizing answers on "practice tests." 
A comprehensive pre-licensing education course designed specifically for your exam will teach you everything you need to know to pass your test on the first try. 
How much time should I spend studying?
Students who complete a pre-licensing education course in a short period of time tend to have the highest first-time pass rates. 
The experts at America's Professor recommend studying for 35-40 hours, as you would with an in-person classroom course. 
Break up the time in a way that works with your schedule. For example, if your days are free, give yourself 5-7 full days to study before your scheduled exam date. If you only have a few hours a day, start 2-3 weeks before your scheduled exam date. 
Put yourself on a strict study schedule and stick to it. Find a quiet place where you can concentrate without distractions. 
Keep in mind that the longer you wait to take the exam after studying the material, the more details you will forget. The "Goldilocks zone" for when to start studying is 7-21 days before your exam. 
Can I take the exam online?
Yes, you can take the exam online through Pearson VUE. Online exams are "proctored," meaning someone monitors you while you take it. 
If this sounds a little nerve-wracking, keep in mind that you would also be monitored while taking the exam in person at a testing center. 
Learn more about taking the exam online at:  https://home.pearsonvue.com/wy/insurance/onvue. 
Why Take an AP Course?
It's not enough to memorize answers to practice quizzes you find online. The insurance licensing exams are designed to test your knowledge and understanding, and the questions are challenging. 
AP courses work. We've spent 30 years designing comprehensive exam prep courses that help students pass their licensing exams on the first try. 
Our founder, Professor Jack Morton, strives to make learning fun. He uses real-world examples to help you make sense of complex insurance terms and concepts and retain the information. 
When you sign up for a Wyoming insurance license exam prep course, you'll get instant 45-day access to our streaming lectures. Watch them anytime, anywhere, 24/7. 
We'll also send you a comprehensive textbook in the mail. Take notes, highlight sections, and use it to study right up until the day of your exam. If you have questions, our helpful team is available to answer them. 
Check out the Reviews section on our Wyoming courses page to hear what students are saying about America's Professor and enroll in an exam prep course! 
For the full guide on how to pass the Wyoming insurance licensing exam, visit https://americasprofessor.com/resources/wyoming/how-to-pass-the-wyoming-insurance-licensing-exam/. 
Learn how to make the most of AP courses at https://americasprofessor.com/general/great-ap-student/.